National Seminar
Use of Volunteers in Hospital-Based Palliative Care
Topic: Staffing Models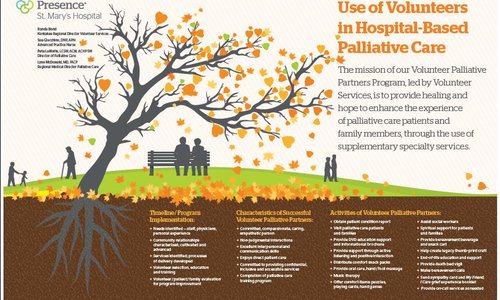 The Presence St. Mary's Hospital Palliative Care practitioners were encountering a number of patients in the hospital with no visitors, little to no social interaction and, at times, going through the dying process alone.  The hospital's Volunteer Services Department was approached for interested members who might be willing to sit with patients.  Discussions ensued and a vision was created to develop a program that now has evolved into an abbreviated ELNEC training for volunteers interested providing services to our hospital based palliative care patients.  Carts were developed that have numerous items including oils for massage, music, kits for making hand prints, snacks, and bereavement reading materials. The volunteer program has even expanded to assisting with follow-up phone calls and monitoring patient/family satisfaction.  While initially developed for patients that were socially isolated, the program has become extremely popular among the volunteers serving all Palliative Care in-patients providing services Monday through Friday and on-call.  Poster would explain timeline of program, program implementation and how patients are identified for volunteer interaction.
Author
Regional Director Palliative Care
Presence St. Mary's Hospital
500 W Court St
Kankakee, IL 60901
(815) 937-2125
Co-authors
Lynn McDonald, MD, FACP
Ronda Bond
Sue Giacchino, DNP, APN
Register Now
Register for the 2018 CAPC National Seminar and Pre-Conference Workshops by September 24 for Early Bird pricing.
Learn More and Register