National Seminar
Transforming the Transdisciplinary Model
Topic: Pediatrics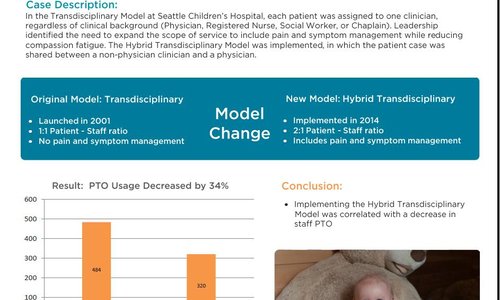 Objectives:  Identify how to expand the scope of service and decrease compassion fatigue   
Background:  Compassion fatigue can lead to unexpected sick days and turnover.  The risk of compassion fatigue for the Transdisciplinary Model needs to be considered when evaluating the effectiveness of this model.
Case Description:  The Transdisciplinary Model of care started in 2001 in the Pediatric Palliative Care Consultation Service at Seattle Children's where one clinician was assigned to a patient, regardless of their clinical background.  In 2014, compassion fatigue was at an all-time high, and leadership was compelled to change the model or risk losing members of the team to burnout.  The Hybrid Transdisciplinary Model of care was implemented where the burden of a case was shared between a non-physician clinician and an Attending.  Six months after changing the model of care, staff vacations were at the lowest point in two years.
Conclusion:  The Hybrid Transdisciplinary Model reduces compassion fatigue as evidenced by a significant decrease in vacation usage.  Future research is needed to determine if the Hybrid Transdisciplinary Model of care is sustainable and should be idealized while we are in a climate of strategizing how to function with limited resources.
Author
Seattle Children's Hospital
4800 Sand Point Way NE MB.5.605
Seattle, WA 98105
(206) 987-4719