National Seminar
Transforming the Experience of People with Advanced Illness at a Health System
Topic: Quality Improvement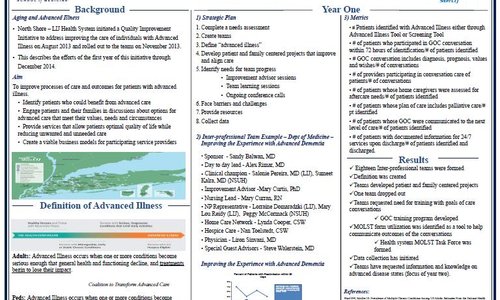 Using a collaborative structure, seventeen teams from inpatient, outpatient, and service line settings developed reliable processes to identify patients with advanced illness, conducted conversations with patients and their families to develop realistic goals of care, ensured services align with patients' needs and preferences, and communicated via documentation through the continuum. The Executive Directors and Medical Directors at the involved settings, along with system level direction, allowed for buy-in and support. A definition of advanced illness was developed and adopted universally throughout the healthcare system. Using the Model for Improvement as the transformational methodology, identification tools were developed and adopted. Education programs were developed for goals of care conversations by partnering with the Palliative Care Service Line. Once identified, goals of care were documented in the medical record and communication tools were developed to ensure congruence to the next level of care throughout the healthcare continuum. Evaluation measures being tracked include: the number of patients identified, the number of conversations conducted with documented goals of care, palliative care and hospice referrals, and goals of care handoffs at the transitions of care. Identification and documentation tools with be presented. Transitional handoffs to community services will be shared.
Author
Chief, Division of Geriatric and Palliative Medicine`
North Shore-LIJ Health System Hofstra North Shore-LIJ School of Medicine
270-05 76th Ave - Research Bldg., Suite B214
New Hyde Park, NY 11040
(718) 470-7270
Co-authors
Alexander Rimar, MD
Lori Attivissimo, MD
M. Isabel Friedman, DNP
Tara Liberman, DO
Register Now
Register for the 2018 CAPC National Seminar and Pre-Conference Workshops by September 24 for Early Bird pricing.
Learn More and Register