National Seminar
The Tipping Point Demands a Return to Primary Palliative Care: System and Continuum Wide Education Using the End-of-Life Nursing Education Consortium Curriculum
Topic: Education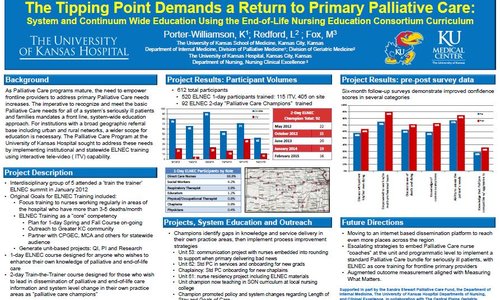 As Palliative Care programs mature, the need to empower frontline providers to address primary Palliative Care needs increases. For institutions in rural states with a broad geographic referral base, an even wider net for education is necessary. Nurses are an important vector to spread this knowledge within their teams, however, they cite lack of competency in this area. The ELNEC (End-of-life Nursing Education Consortium) curriculum provides structured content to enhance nurses'competency to provide Palliative care. Intervention: A multidisciplinary group of five individuals from the University of Kansas Hospital attended a Train-the-trainer ELNEC Summit in January 2012, then started ELNEC education for internal and community providers across the state of Kansas via ITV. Dissemination includes training 76 staff nurses, chaplains and social workers from hospital and ambulatory sites as Palliative Care Champions. Consequently, these champions have identified service gaps in their practice areas and implemented process improvement strategies addressing the needs. Champions also help teach a Bi-annual 1-day ELNEC program. From this, 280 additional providers from our institution and across Kansas have been trained. Participants show improved knowledge and confidence in addressing palliative needs. The ELNEC curriculum is evidence-based and effective to improve systems' delivery of primary Palliative Care.
Author
University of Kansas Hospital
6040 Delp Mailstop 1020 3901 Rainbow Blvd
Kansas City, KS
(913) 588-3807
Co-authors
Register Now
Register for the 2018 CAPC National Seminar and Pre-Conference Workshops by September 24 for Early Bird pricing.
Learn More and Register