National Seminar
Systems BRIDGES: Community outreach for Asian population
Topic: Specific Patient Populations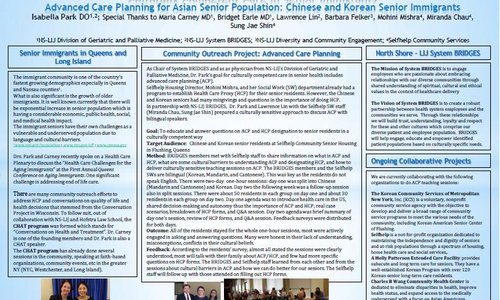 The Asian community is one of the country's fastest growing demographics, and in New York City, Asians are now 12% of the population. Despite their growing numbers, the Asian community remains vulnerable and underserved, mostly due to language and cultural differences. System BRIDGES was founded by the North Shore LIJ Health system to engage employees who are passionate about building a relationship with this diverse community through shared understanding of spiritual, cultural and ethical values in the context of healthcare delivery.
Initially beginning as a hospital based program to educate health professionals about the Asian community, System BRIDGES moved to community outreach with the help of the Esther Ha Foundation. One area of particular need was in the area of advanced directives, where sessions were conducted for advanced care planning.
Additionally, the New York tri-state area has a rapidly increasing Chinese population in the bureau of Queens. Similarly, of the North Shore LIJ Health Plan, Care Connect, 42% of the Managed Long Term Care (MLTC) patient base is Chinese necessitating the creation of a distinct team of nurses, service coordinators, sales and outreach staff that speak Mandarin, Cantonese, and Fujianese. As the program expands, new opportunities for outreach become apparent.
Author
Attending Physician Palliative Medicine
North Shore University Hospital
300 Community Drive
Manhasset, NY 11030
Co-authors
Barbara Felker
Bridget Earle MD
Lawrence Lin
Maria Carney MD
Miranda Chau
Mohini Mishra
Sung Jae Shin