National Seminar
A System Approach to Inpatient Palliative Care Services
Topic: Health System Strategies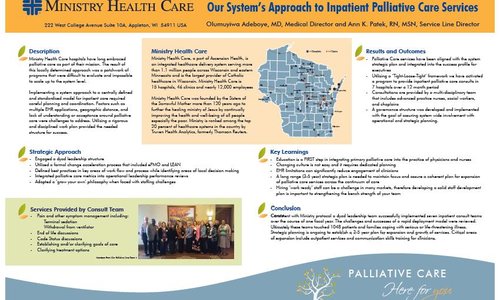 Ministry Health Care has recognized the need to expand the reach of palliative care services and identified these services as a strategic imperative.   Palliative Care aligns well with the values and mission of our Catholic system and provides an important component of care as we move to align our work with a population-based health model of service delivery. 
To facilitate this work the system implemented a dyad leadership team and charged them with implementing a multi-disciplinary inpatient palliative care consult team in 7 hospitals located in the central, eastern, and northern parts of Wisconsin.  This poster describes the work to implement a standardized palliative care service that is deployed locally.  Challenges of multiple EHR applications, geographic distance, lack of understanding/acceptance of palliative care are considered in the narrative.
Author
System Medical Director
Ministry Health Care
222 W. College Avenue
Appleton, WI 54911
(920) 628-9217
Co-authors
Register Now
Register for the 2018 CAPC National Seminar and Pre-Conference Workshops by September 24 for Early Bird pricing.
Learn More and Register