National Seminar
Staffing for a Small, Rural Palliative Care Program
Topic: Staffing Models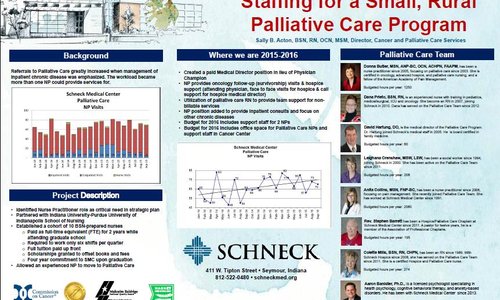 Schneck Medical Center integrated the objective "to recognize and grow nurse practitioners (NP) to further assist in the development of service lines and quality of care issues" into its Strategic Plan. An action plan was implemented in 2013 with a two year timeline. The plan included the approval of a workforce classification policy entitled Critical Need Student Position. NPs were the first to be designated as a Critical Need Student Position.  SMC partnered with the IUPUI School of Nursing to develop a Cohort Program. Ten clinical nurses were accepted into the program. Full tuition was paid and scholarships given to offset books and fees. Each NP student was paid as a full time employee, required to work a maximum of six shifts a quarter, and fulfill a 4 year commitment post-graduation. The outcome would see the number of org-wide NPs increase by100%. The Palliative Care Program at SMC began as an Outpatient Clinic in the Cancer Center with one NP. Since moving into the inpatient realm, the department needed another NP to fulfill the needs of the COPD and CHF population. Palliative Care was able to obtain a full time NP from the Cohort Program, beginning October 1.
Author
Director, Cancer and Palliative Care Services
Schneck Medical Center
9482 W Co. Rd. 200 N
Norman, IN 74264
(812) 522-0474
Co-authors
Aaron Banister, Ph.D
Anita Collins, MSN, FNP-BC
Colette Mills, BSN, RN, CHPN
Dana Prieto, BSN, RN
David Hartung, DO
Donna Butler, MSN, ANP-BC, OCN, ACHPN, FAAPM
Leighana Crenshaw, MSW, LSW
Rev. Stephen Barrett
Register Now
Register for the 2018 CAPC National Seminar and Pre-Conference Workshops by September 24 for Early Bird pricing.
Learn More and Register