National Seminar
Satisfaction Surveys: Timing of Inpatient Palliative Care Consults
Topic: Quality Improvement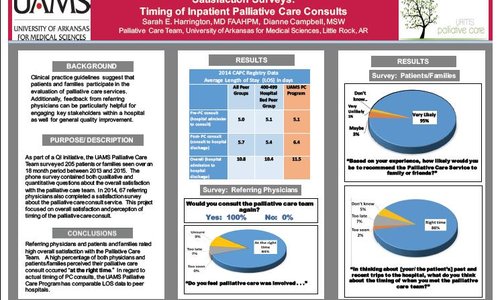 Clinical practice guidelines suggest that patients and families participate in the evaluation of palliative care services.  Additionally, feedback from referring physicians can be particularly helpful for engaging key stakeholders within a hospital as well for general quality improvement. In preparation for Joint Commission certification, we developed surveys for both sets of stakeholders.  Our team was particularly interested in timing of consultations within our system.  Using the CAPC registry, we were able to compare our consult data to similar institutions.  The survey for patients and families and the survey completed by referring physicians asked about timing of palliative care consults in order to gauge perception of timing. This poster will show the results of those targeted timing questions along with overall satisfaction rates.   We will also present length of stay data (overall, admission to consult, and consult to discharge) to show where UAMS performs compared to similar institutions.  We will discuss how we used this data for team development and quality improvement, as well as for Joint Commission certification.  We will plan to make complete sample surveys available at the poster presentation.
Author
University of Arkansas for Medical Sciences Palliative Care Program
UAMS Slot #508 4301 W. Markham
Little Rock, AR
(501) 686-8511
Co-authors
Register Now
Register for the 2018 CAPC National Seminar and Pre-Conference Workshops by September 24 for Early Bird pricing.
Learn More and Register