National Seminar
RPM & Palliative Care Improves Patient Outcomes
Topic: Leveraging Technology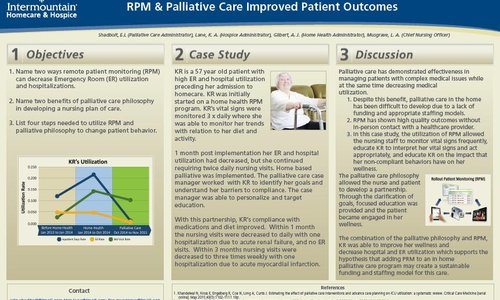 KR is a 57 year old patient with high Emergency Room (ER) and hospital utilization preceding her admission to homecare.  KR was started on a Remote Patient Monitoring (RPM) program, with a home health case manager. With RPM KR's vital signs were monitored 3 x daily by a nurse, and KR was able to see her vital sign trend with relation to her diet and activity.  1 month post implementation her ER and hospital utilization had decreased, but she continued requiring twice daily nursing visits.  KR then began the home based palliative care program.  The palliative care case manager was able to work with KR to identify her goals and understand her barriers to compliance.  The case manager was able to personalize and target the education KR received.  With this partnership, KR understood the education and her compliance with medications and diet improved.  Within 1 month the nursing visits were decreased to daily with one hospitalization due to acute renal failure, and no ER visits.  Within 3 months nursing visits were decreased to three times weekly with one hospitalization due to acute myocardial infarction.
Author
Hospice Nurse Administrator
Intermountain Homecare and Hospice
11520 S Redwood Rd
South Jordan, UT 84095
(385) 887-6782
Co-authors
A. J. Gilbert
E. L. Shadbolt
K. A. Lane
L.A. Musgrave
Register Now
Register for the 2018 CAPC National Seminar and Pre-Conference Workshops by September 24 for Early Bird pricing.
Learn More and Register