National Seminar
Rothman Index as a Palliative Consultation Trigger
Topic: Screening for Palliative Care Patients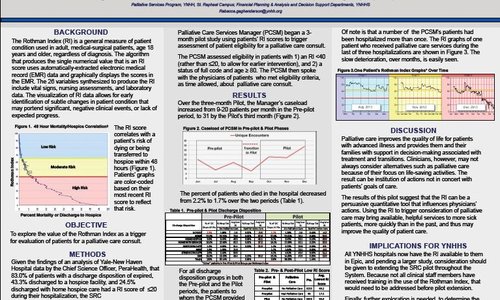 The Rothman Index (RI) is a peer reviewed and validated formula which provides a real-time, disease agnostic continuous measure of patient condition based on existing data sitting in the electronic medical record.  The RI is fully integrated with our EMR system, and is used as an early warning system for unexpected deterioration. The RI is available and integrated in many of the most widely used EMRs.
The Palliative Care Service Manager (PCSM) reviewed the charts of 112 patients with an RI <40 and a LOS >5 days in the hospital during the month of February 2014. The PCSM applied a palliative screening to those charts. Ninety-five percent of the patients screened with RI 40 and a LOS >5 days met criteria for palliative care. The PCSM informally educated physicians regarding the significance of the low Rothman Index Scores. Over the three-month pilot, the manager's caseload increased from 9-20 patients per month in the pre-pilot period, to 31 by the Pilot's third month. The disposition of such patients showed a decrease of hospital mortality and increased access to palliative care. This small pilot has implications for future quality improvement efforts in palliative care using the Rothman Index.
Author
Yale New Haven Hospital
1450 Chapel Street
New Haven, CT 06511
(203) 867-8262
Co-authors
Joan Rimar, RN, DNSc
Richard Hintz
Stephen Allegretto, BS, MPH
Register Now
Register for the 2018 CAPC National Seminar and Pre-Conference Workshops by September 24 for Early Bird pricing.
Learn More and Register