National Seminar
Regional Survey of Advanced Heart Failure Care in Hospice
Topic: Specific Patient Populations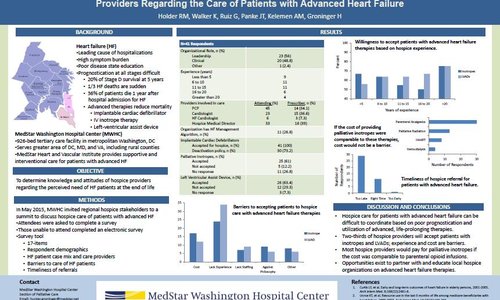 Background:
Advanced heart failure (AHF) therapies, including inotropes and ventricular assist devices (VADs), may improve symptoms, function, and longevity for select patients. The role of these therapies in hospice care is not well defined.
Research Objective:
To describe the variation in practice as a needs assessment in improving care for AHF patients.
Methods:
At an AHF summit, an 18-item multiple-choice survey was distributed to metropolitan DC area hospice leaders. Survey topics included demographic information about the hospice, experience caring for AHF patients, and opinions on barriers and preferences for training.
Results:
Nineteen hospice leaders were represented and completed the survey (100% response rate). Respondents were in administrative (11/19) and clinical (11/19) leadership roles. Most respondents felt access to hospice for AHF patients was adequate/somewhat adequate (13/19), but timing of referrals was late (18/19). Fifteen (79%) reported not having algorithms for AHF management. Ten (53%) reported inotropes were cost prohibitive. Of those, 90% would cover inotrope costs if comparable to the cost of parenteral opioids. Fourteen (74%) reported lack of experience with inotropes, and 18 (95%) indicated interest in training.
Conclusion:
We identified lack of experience, cost, and late referrals as barriers to providing advanced therapies for AHF in hospice settings.
Author
Clinical Pharmacist
MedStar Washington Hospital Center
110 Irving Street NW
Washington, MD 20010
(202) 877-7841
Co-authors
AM Kelemen
G. Ruiz
H. Groninger
JT Panke
K. Walker