National Seminar
Redesigning the Role of The Palliative Care Team To Expand Services
Topic: Health System Strategies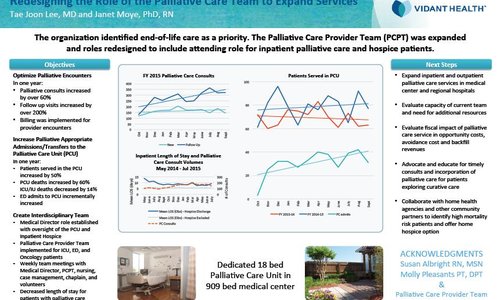 Our 900 bed hospital is the flagship hospital for the system's 9 hospitals and is located in a largely rural area in eastern North Carolina. The 18 bed Palliative Care Unit (PCU) has existed for years but has been underutilized.
The primary reasons for the underutilization included lack of patient and provider knowledge of palliative care and the remote location of the PCU in the hospital away from the intensive care and intermediate units where most of the provider's patients are located creating efficiency challenges.
To bridge this gap, a new care model was implemented and the Palliative Care Provider team (PCPT) was expanded to incorporate an attending role in addition to the traditional consultant role. In this model, admitting providers have the option of continuing to care to their patient after transfer to PCU or transferring care to the PCPT.
This innovation has increased knowledge of palliative care, promoted collaboration, and has improved continuity of care. Additionally it has resulted in better utilization of the PCU for palliative-appropriate patients and increased provider and patient and family satisfaction. Metrics include percentage of expected hospital deaths in the PCU compared to intensive care units, utilization of the PCU, and patient, family and provider satisfaction data.
Author
Vidant Health
2100 Stantonsburg Rd
Greenville, NC 27834
(252) 847-1242
Co-authors