National Seminar
Rapid Palliative Care in ED Improves Care for Dementia
Topic: Specific Patient Populations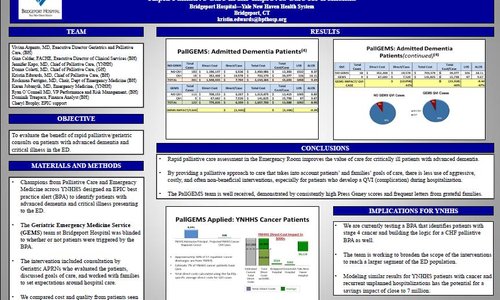 Rapid Palliative Care Assessments were done according to usual care by Geriatric Nurse Practitioners and outcomes compared with those who met criteria for consultation based on a computer based trigger for severity of illness and diagnosis of advanced dementia.  Those who received consultation had a reduced rate of Quality Value Indicators (QVIs) compared with those who would have based on trigger criteria (7% vs 9%)
For patients who had a QVI during their hospitalization, those seen by the consulting team had a reduction in direct cost per case of $12,058 ($7520 vs $19,578), and a reduced length of stay by 8.44 days (9.67 days vs 18.11days).  In group that did not have a QVI during hospitalization, cost reduction was also seen but not as significant $269 ($6267 vs $6536) despite a slight (0.5 day) increase in ALOS (8.89 days vs 8.37 days). Consultation in the ED by Geriatric trained APRNS lead to improved reduction in QVIs, and reduced cost and length of stay when QVIs occurred.
Author
Chief of Palliative Care
Bridgeport Hospital – Yale New Haven Health System
New Canaan, CT 06840
(203) 337-8558
Co-authors
Cheryl Brophy, EPIC, Support
Dominik Trzepacz, Finance Analyst
Donna Coletti, MD, Chief of Palliative Care, (GH)
Gina Calder, FACHE, Executive Director of Clinical Services (BH)
Jennifer Kapo, MD, Chief of Palliative Care, (YNHH)
Karen Jubanyik, MD, Emergency Medicine, (YNHH)
Kristin Edwards, MD, Chief of Palliative Care, (BH)
Rockman Ferrigno, MD, Chair, Dept of Emergency Medicine (BH)
Ryan O'Connell MD, VP Performance and Risk Management, (BH)
Vivian Argento, MD, Executive Director Geriatrics and Palliative Care, (BH)
Register Now
Register for the 2018 CAPC National Seminar and Pre-Conference Workshops by September 24 for Early Bird pricing.
Learn More and Register