National Seminar
Proving the Financial Benefit- Inpatient Palliative Care
Topic: Measuring Impact and Value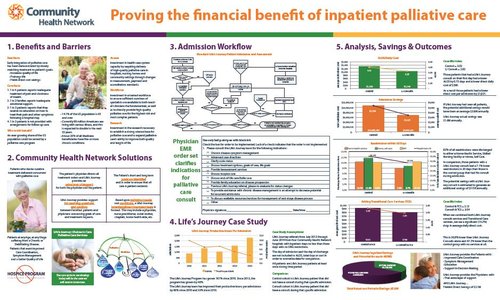 This poster session focus is based on proving the financial benefit of Health Systems funding Palliative Care Consult Teams within the walls of their hospitals.  Community Health Network's Palliative Care Inpatient Consultation Team, Life's Journey: Choices in Care, has seen a 299.7% growth since the start of the program in 2006 through year-end 2014.  Since 2013, the program has grown by 45.6% with a significant improvement in productive hours as well as proving what evidenced-based literature has shown…that early palliative intervention equates to substantial cost savings. 
During our Poster session, we will also demonstrate the benefit around common barriers of supporting and implementing a palliative care program including the need for health systems to invest in a trained workforce to ensure sufficient numbers of specialists are available to both teach all clinicians the fundamentals in an integrative model as well as to directly provide high-quality palliative care for the highest-risk and most complex patients.
Author
Life's Journey Program Director
Community Health Network
9894 E. 121st St
Indianapolis, IN 46037
(317) 621-4631
Register Now
Register for the 2018 CAPC National Seminar and Pre-Conference Workshops by September 24 for Early Bird pricing.
Learn More and Register