National Seminar
Protecting Our Vulnerable Population: Screening for Mistreatment in Palliative Care
Topic: Education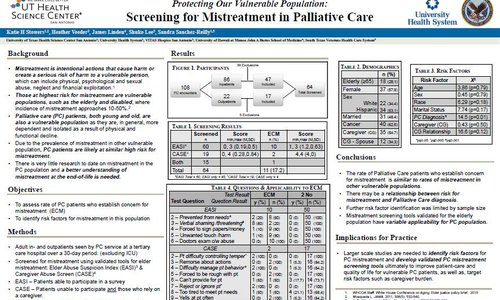 Palliative Care (PC) patients are a vulnerable population. While the incidence of mistreatment in other vulnerable populations has been defined, approaching 10% of elderly, the incidence in PC has not. We sought to assess the rate of PC patients who establish concern for mistreatment (ECM) and identify risk factors by screening our PC patients for mistreatment using two mistreatment screening tools validated among elderly: Elder Abuse Suspicion Index (EASI) and Caregiver Abuse Screen (CASE). 64 patients were screened over 30 days.  Eleven (17.19%) ECM . A significant relationship was found between PC diagnoses and ECM, [p = 0.01].  EASI question #2 (preventing access to resources/people/medical care, p=0.02), #3 (verbal shaming, p < 0.001) and CASE question #2 (caregiver shameful of actions, p=0.005), #4 (caregiver acting rough, p=0.02), #7 (caregiver exhaustion, p=0.006) were significant to ECM. The rate of PC patients who ECM is similar to other vulnerable populations. ECM risk factors included PC diagnoses; further risk factor identification was limited by small sample size and variable applicability of elderly-targeted validated scales. Larger scale studies are needed to identify risk factors for PC mistreatment, and develop validated PC mistreatment screening tools, ultimately improving patient-care for vulnerable PC patients and targeting risk factors.
Author
University of Texas Health Science Center San Antonio; University Health System
7703 Floyd Curl Drive
San Antonio, TX 78231
(210) 358-0594
Co-authors
Heather Veeder
James Linden
Sandra Sanchez-Reilly MD
Shuko Lee MS
Register Now
Register for the 2018 CAPC National Seminar and Pre-Conference Workshops by September 24 for Early Bird pricing.
Learn More and Register