National Seminar
Primary Palliative Care in Action – Meet Our "Champions"
Topic: Education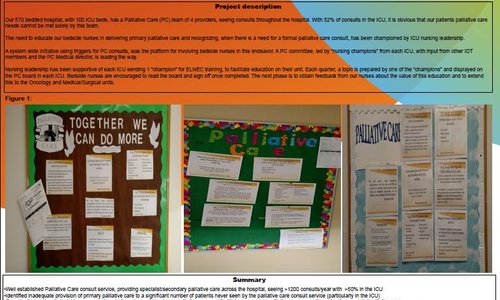 Our 570 bedded hospital, with 100 ICU beds, has a Palliative Care (PC) team of 4 providers, seeing consults throughout the hospital. With 52% of consults in the ICU, it is obvious that our patients palliative care needs cannot be met solely by this team.
The need to educate our bedside nurses in delivering primary palliative care and recognizing, when there is a need for a formal palliative care consult, has been championed by ICU nursing leadership.
A system wide initiative using triggers for PC consults, was the platform for involving bedside nurses in this endeavor. A PC committee, led by "nursing champions" from each ICU, with input from other IDT members and the PC Medical director, is leading the way.
Nursing leadership has been supportive of each ICU sending 1 "champion" for ELNEC training, to facilitate education on their unit. Each quarter, a topic is prepared by one of the "champions" and displayed on the PC board in each ICU. Bedside nurses are encouraged to read the board and sign off once completed. The next phase is to obtain feedback from our nurses about the value of this education and to extend this to the Oncology and Medical/Surgical units.
Author
Medical Director Palliative Care
St. Joseph's Hospital and Medical Center
12201 N 68th Place
Scottsdale, AZ 85254
Co-authors
Diane King RN, MBA/HCM, CNRN, CCRN, ATCN