National Seminar
Preparedness Survey for Joint Commission's Palliative Care Requirement with LVAD Implantation as Destination Therapy
Topic: Specific Patient Populations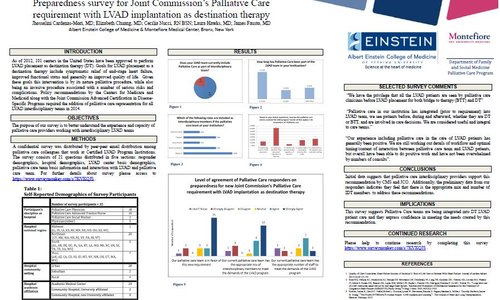 As of 2012, 101 centers in the United States have been approved to perform LVAD placement as destination therapy. Historically, there has been little regulation over these programs and general practice often may not include the integration of a palliative care team into care provided to LVAD recipients. New regulations set by the Joint Commission require programs desiring Advanced Certification in Disease-Specific Programs to provide an interdisciplinary healthcare team, including at least one cardiothoracic surgeon, at least one cardiologist (including one heart failure specialist), a registered nurse with experience in VAD, and VAD coordinator (who may be the registered nurse), and social worker with experience with VAD recipients as well as a palliative care specialist who has expertise working with VAD patients and their families. These new regulations should have taken effect since October of 2014. The new regulations would also mandate detailed discussions about alternative options, risks, and complications of the procedure as well as the provision of extensive supportive services following the LVAD placement. We created a survey with the main objective to evaluate the perception of readiness of palliative care services into the LVAD evaluation process. The survey will be delivery to the palliative teams in the LVAD implantation Joint Commission certified hospitals. This study will be descriptive and our future plan will evaluate learning interventions of Palliative Care team in the LVAD evaluation process.
Author
Palliative Care Attending
Montefiore Medical Center 2nd fl.
3347 Steuben
Bronx, NY 10467
Co-authors
Cecilia Nucci, RN BSN
Elizabeth Chuang, MD
James Fausto, MD
Laura Hawks, MD
Register Now
Register for the 2018 CAPC National Seminar and Pre-Conference Workshops by September 24 for Early Bird pricing.
Learn More and Register