National Seminar
Playing Well in the Sandbox: Growing an Outpatient Palliative Care Clinic While Enhancing Collaboration with Interventional Pain Clinicians
Topic: Palliative Care Models by Setting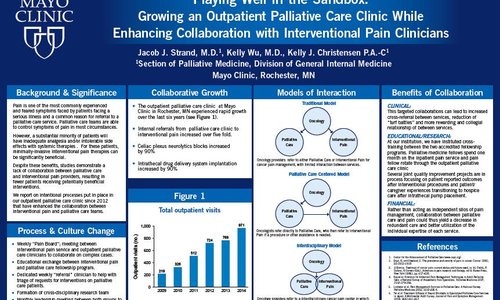 Pain is one of the most commonly experienced and feared symptoms faced by patients facing a serious illness and a common reason for referral to a palliative care service. Palliative care teams are able to control symptoms of pain with pharmacologic & non-pharmacologic adjuvant therapies in most circumstances. However, a substantial minority of patients will have inadequate analgesia and/or intolerable side effects with systemic therapies (up to 25% in patients with cancer pain). For these patients, minimally-invasive interventional pain therapies can be significantly beneficial. However, despite these benefits, a number of studies demonstrate a lack of collaboration between palliative care and interventional pain providers, resulting in fewer patients receiving potentially beneficial interventions. Lack of mutual understanding about one another's role & potential benefits and concern about losing patients to one another's practice have been postulated as potential reasons for this lack of collaboration.
The outpatient palliative care clinic (named SYMPAQ: Symptom Management, Pain & Quality of Life) at Mayo Clinic in Rochester, MN was established in 2008 and had 89 patient visits in its first year. By 2009, the number of patient visits more than doubled to 219. Patient visits doubled again by 2011 to 512 and increased to 681 visits by 2013 reflecting an average yearly increase in patient visits of 60% per year since its inception. During this growth, practice leaders in both groups have purposefully planned ways for the two groups to collaborate, learn from one another and in turn avoid potential competitive pitfalls. Joint teaching conferences, pre-scheduled visits with providers from both specialties and co-rounding models have helped enhance collaboration. Early data also suggest that while consultations to the palliative care practice have increased, so too have the number of procedures referred to our interventional pain clinicians.
Author
Director, Outpatient Palliative Care
Mayo Clinic
200 First Street SW
Rochester, MN 55902
(507) 294-1094
Co-authors
Kelly J. Christensen P.A.-C
Kelly Wu, M.D
Register Now
Register for the 2018 CAPC National Seminar and Pre-Conference Workshops by September 24 for Early Bird pricing.
Learn More and Register