National Seminar
Pharmacist involvement in the palliative care clinic
Topic: Staffing Models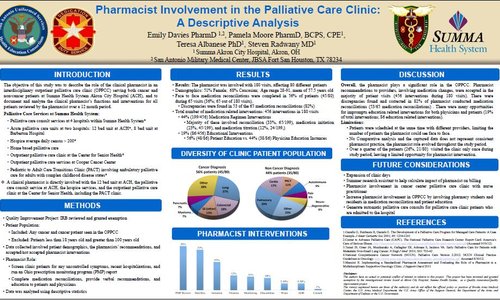 The objective of this study was to describe the role of the clinical pharmacist in an interdisciplinary outpatient palliative care clinic (OPPCC) serving both cancer and non-cancer patients at Summa Health System Akron City Hospital (ACH), and to document and analyze the clinical pharmacist's functions and interventions for all patients reviewed by the pharmacist over a ten month period. A quality improvement project reviewed and granted exemption by ACH IRB. Data collected involved patient demographics, pharmacist recommendations and interventions. Data was analyzed using descriptive statistics. Over the ten months, the pharmacist was involved with 180 visits, affecting 80 different patients. Medication related interventions by the pharmacist totaled 456, with 44% of these interventions directly involving medication regimen changes and reconciliations. Nineteen percent of the interventions included both patient and provider education. Overall, the pharmacist played a significant role in the OPPCC. Pharmacist recommendations to providers involving medication changes were accepted in the majority of patient visits (456 interventions during 180 visits). There were discrepancies found and corrected in 82% (53/65 medication reconciliations) of pharmacist conducted medication reconciliations.
Author
San Antonio Military Medical Center
7601 Gateway Blvd Apt 1836
Live Oak, TX 78233
(210) 539-8608
Co-authors
Pamela Moore PharmD, BCPS, CPE
Steven Radwany, MD
Teresa Albanese, PhD
Register Now
Register for the 2018 CAPC National Seminar and Pre-Conference Workshops by September 24 for Early Bird pricing.
Learn More and Register