National Seminar
A PC Team's Journey Toward Discovering their own GOC
Topic: Team Wellness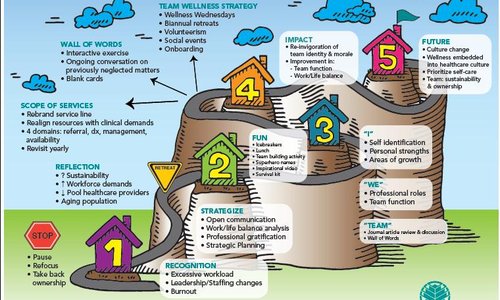 Burnout became an imminent concern for an interdisciplinary palliative care team in a large hospital.  The critical events of excessive workload and leadership/staffing changes impacted self-care strategies and compromised the sustained ability to care for seriously ill patients and families. This is one team's journey to pause, refocus, and take back ownership of their team's structure, team-wellness and scope of services.
The team Lead Nurse Practitioner and Social Worker designed a retreat to promote an innovative team culture encouraging open communication, analysis of work/life balance, professional gratification, and strategic planning. A creative and unique way to address communication, structure, and team health called "Wall of Words" was developed. This interactive exercise fostered ongoing conversations about matters the team had previously neglected.
This initial retreat began the journey to a revision of workflow processes, development of a Scope of Services document, and creation of a team-wellness strategy that prioritized team sustainability and a reinvigoration of team identity. This initiative can be a starting platform for other palliative care teams.  Outcomes measured through pre/post retreat surveys showed improvement in assessment of team function and work/life balance.  Ongoing events and retreats will prioritize this team's continued journey toward their goals of care.
Author
Carolinas HealthCare System Carolinas Palliative Care & Hospice Group
3249 Basalt Place
Davidson, NC 28036
Co-authors
Kim Shellenberger, MSSW, LCSW