National Seminar
Patient and Caregiver Quality of Life
Topic: Measuring Impact and Value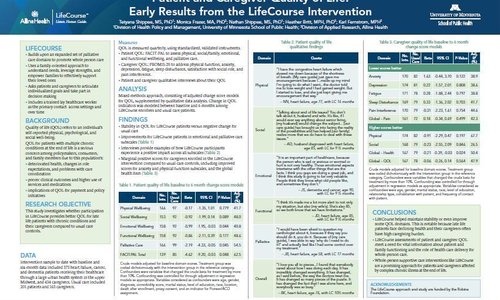 Question: Does participation in LifeCourse provide better Quality of Life (QOL) for late life patients with chronic conditions and their caregivers compared to usual care controls?
Data: Intervention sample with baseline and six-month data included 373 heart failure, cancer, and dementia patients and 434 caregivers. Usual care included 201 patients and 163 caregivers.
Measures: QOL was measured quarterly. Patient QOL was measured using the FACIT-PAL, and caregiver QOL was measured using the PROMIS-29. We also collected qualitative interviews.
Results:  Stability in QOL for LifeCourse patients versus negative change for usual care, and improvements for LifeCourse patients in emotional and palliative care subscales. Interviews provided examples of a positive impact across subscales. Marginal positive scores for caregivers enrolled in LifeCourse compared to usual care controls.
Conclusions: LifeCourse helped maintain and even improve some QOL domains. This is notable because late life patients face declining health and caregivers often have high caregiving burden. LifeCourse assessments of patient and caregiver QOL meet a need for information about patient and family functioning and the role of health care delivery in whole-person care. Whole-person supportive care interventions are a promising approach for patients and caregivers affected by complex chronic illness at the end of life.
Author
Research Coordinator
Allina Health
2925 Chicago Ave., MR 10039
Minneapolis, MN 55407
(612) 262-0534
Co-authors
Alissa Jones, MA
Cindy Cain, MA PhD
Heather Britt, MPH, PhD
Karl Fernstrom, MPH
Nathan Shippee, MS, PhD
Tetyana Shippee, MS, PhD