National Seminar
Patient and Caregiver Experience with Care
Topic: Measuring Impact and Value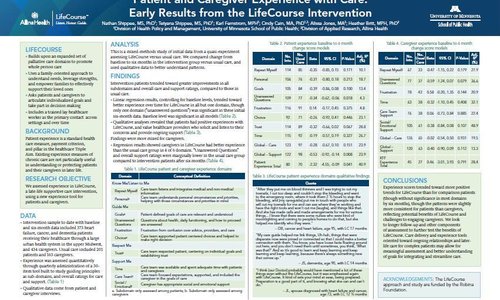 Aim: Assess experience in LifeCourse, a late-life supportive care intervention, using a new experience tool for patients and caregivers.
Data and Analysis: Intervention sample with baseline and six-month data included 373 heart failure, cancer, and dementia patients and 434 caregivers. Usual care included 201 patients and 163 caregivers. Experience was assessed quantitatively through quarterly administration of a 30-item tool built to study guiding principles as sub-domains, and overall ratings for care and support. Qualitative data came from patient and caregiver interviews, and was used to better understand patterns.
Results: Intervention patients trended toward greater improvements in all subdomains and overall care and support ratings, compared to those in usual care. Findings were more mixed for caregivers.
Conclusions: Experience scores showed more positive trends for LifeCourse than for comparison patients (though without significance in most domains by six months.) The patterns were slightly more consistent for patients than caregivers, reflecting potential benefits of LifeCourse and challenges to engaging caregivers. We look to perform longer follow-up and other components of assessment. Care delivery and experience tools oriented toward ongoing relationships and later-life care for complex patients may allow for meaningful assessment and better understanding of goals for integrating and streamlining care.
Author
Research Coordinator
Allina Health
2925 Chicago Ave., MR 10039
Minneapolis, MN 55407
(612) 262-0534
Co-authors
Alissa Jones, MA
Cindy Cain, MA PhD
Heather Britt, MPH, PhD
Karl Fernstrom, MPH
Nathan Shippee, MS, PhD
Tetyana Shippee, MS, PhD