National Seminar
Palliative Care through a Dementia Lens
Topic: Specific Patient Populations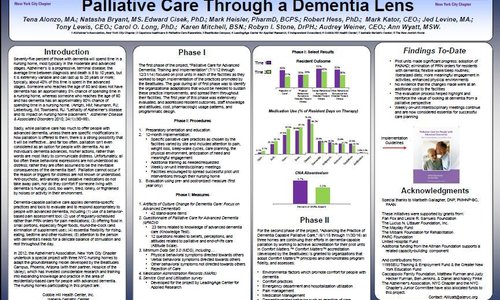 Cambia Health Solutions has implemented a health plan based serious illness services program for the 2.2 million members we serve, with an approach focused on respecting the patient's wishes, from diagnosis to completion of life. This program puts the patient at the center while remaining inclusive of the entire health care community.  New health care services, benefits, training and education have been created to ensure the entire health care system is engaged in putting the patient and their loved ones at the center – supporting the individual and family in their medical, psychosocial, behavioral and spiritual needs. In addition, we provide necessary support and resources to caregivers and loved ones dealing with the serious illness of a loved one or in need of grief or bereavement counseling. Cambia has focused its efforts in integrating five main areas: benefit expansion, specialized care management, community and member engagement, provider reimbursement and training, and caregiver support. This presentation will provide our framework and implementation of this program, providing a structure for other payers to use in development of palliative care initiatives. We will represent initiatives within and outside of our Accountable Care Organization agreements. Example metrics and baseline statistics will also be presented.
Author
Alzheimer's Association, New York City Chapter
360 Lexington Avenue, 4th Floor
New York, NY 10017
(646) 744-2963
Co-authors
Ann Wyatt, MSW
Audrey Weiner, CEO
Carol O. Long, PhD
Edward Cisek, PhD
Jed Levine, MA
Karen Mitchell, BSN
Mark Heisler, PharmD
Mark Kator, CEO
Natasha Bryant, MS
Robert Hess, PhD
Robyn I. Stone, DrPH
Tena Alonzo, MA
Tony Lewis, CEO
Register Now
Register for the 2018 CAPC National Seminar and Pre-Conference Workshops by September 24 for Early Bird pricing.
Learn More and Register