National Seminar
Palliative Care Specialists and Medicare Services
Topic: Payment Models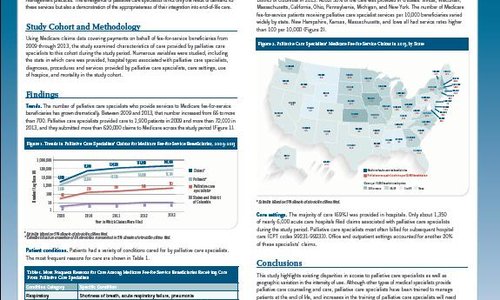 End of life healthcare continues to evolve as experiments with models of care yield new insights into best management practices.  The emergence of palliative care medical specialists is the result of not only demand for these services, but also demonstration of the appropriateness of their integration into end of life care.  Since 2009 palliative care specialists as providers of services to Medicare fee for service beneficiaries has grown dramatically.  Based on Medicare fee for service claims data between 2009 and 2013, the number of palliative care providers grew from less than 50 to more than 480.  They provided care to fewer than 100 patients in 2009 and more than 3,500 in 2013.  The majority of care (69%) was provided in hospitals.  Office and outpatient settings accounted for another 20%.  About 46% of the care was provided in 7 states (IL, MI, MA, CA, OH, NC, NY).  While other types of medical specialists provide palliative care counseling and care, palliative care medical specialists have been trained to manage end of life patients, and growth in training of palliative care medical specialists will need to track growth in the demand for these services.
Author
UHC
155 North Wacker Drive
Chicago, IL 60606
(312) 775-4205
Co-authors
Erika Johnson, MHSA
Marilyn Szekendi, PhD, RN
Register Now
Register for the 2018 CAPC National Seminar and Pre-Conference Workshops by September 24 for Early Bird pricing.
Learn More and Register