National Seminar
Palliative Care Reduces Hospital Costs at End of Life
Topic: Measuring Impact and Value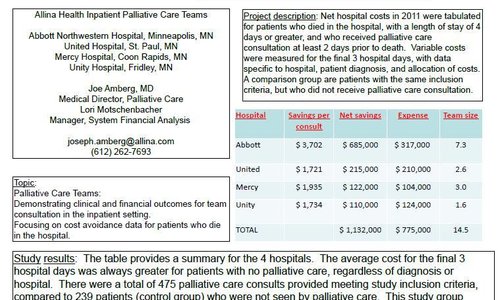 Study information:  Net hospital costs in 2011 were tabulated for patients who died in the hospital, with length of stay of 4 days or greater, and who received palliative care consultation at least 2 days prior to death.  Costs were measured for the final 3 hospital days, with data specific to hospital, patient diagnosis, and allocation of costs. A comparison group are patients with the same inclusion criteria, but who did not receive palliative care consultation.
Study results:  The table below provides a summary for the 4 hospitals.  The average cost for the final 3 hospital days was always greater for patients with no palliative care, regardless of diagnosis or hospital. There were a total of 475 palliative care consults provided meeting study inclusion criteria, compared to 239 patients were not seen by palliative care.  This study group represents only 13% of total consults seen, and demonstrates cost avoidance that exceeds total program costs. 
Savings per consult    Net savings    Expense    Team size
      Abbott    $ 3,702     $ 685,000        $ 317, 000   7.3
      United    $ 1,721     $ 215,000        $ 210,000    2.6
      Mercy    $ 1,935     $ 122,000        $ 104,000    3.0
      Unity    $ 1,734      $ 110,000         $ 124,000    1.6
TOTAL        $ 1,132,000    $ 775,000
Author
Medical Director Palliative Care
Allina Health Hospice and Palliative Care
1055 Westgate Dr., Suite 100
St. Paul, MN 55114
(612) 262-7693
Co-authors
Lori Motschenbacher, Manager, System Financial Analysis
Register Now
Register for the 2018 CAPC National Seminar and Pre-Conference Workshops by September 24 for Early Bird pricing.
Learn More and Register