National Seminar
Palliative Care Integration into Medical Education
Topic: Education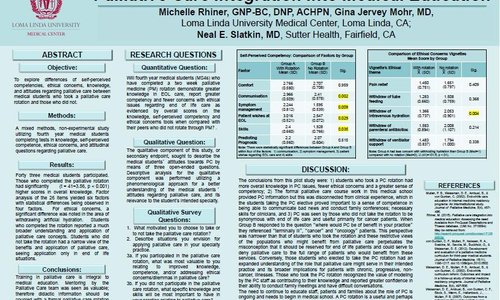 Objective:  To explore differences of self-perceived competencies, ethical concerns, knowledge, and attitudes regarding palliative care between medical students who took a palliative care rotation and those who did not.
Methods: A mixed methods, non-experimental study utilizing fourth year medical students completing tests in knowledge, self-perceived competence, and ethical concerns, and attitudinal questions regarding palliative care.
Results: Forty three medical students participated. Those who completed the palliative rotation had significantly (t = 41=3.56, p < 0.001) higher scores in overall knowledge. Factor analysis of the 26- items yielded six factors with statistical differences being observed in four factors.  For ethical concerns, the significant difference was noted in the area of withdrawing artificial hydration.  Students who completed the rotation reported a much broader understanding and application of palliative care concepts. Students who did not take the rotation had a narrow view of the benefits and application of palliative care, seeing application only in end of life situations.
Conclusions:  The information about palliative care is important during medical school. Mentoring by the Palliative Care team was seen as valuable, therefore didactic information should be coupled with a formal palliative care rotation to best meet the needs of the seriously ill individual and family.
Author
Nurse Practitioner Center for Palliative Care
Loma Linda University Health
11175 Campus Street
Loma Linda, CA 92350
(909) 558-7196
Co-authors
Gina Jervey Mohr, MD
Neal E. Slatkin, MD