National Seminar
Palliative Care for Inpatient COPD Patients
Topic: Specific Patient Populations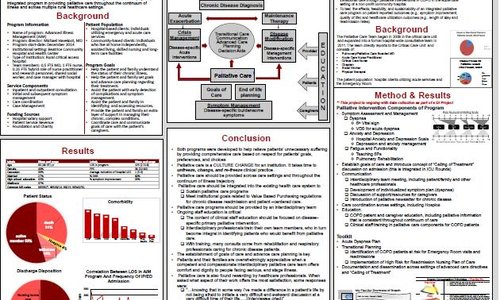 The current practice problems existing in acute care settings regarding to the care of COPD patients include: 1) inadequate symptom management; 2) incongruent care between inpatient and outpatient care settings; 3) lack of knowledge, skills and experience in providing palliative care in general practitioners; 4) unmet needs and suboptimal quality of palliative care in COPD patients.
To address these issues, we have developed a clinical framework in which the COPD palliative care services are integrated into the standard of care in the acute care setting. The disease management core addresses the current standard of care in managing COPD patient during acute exacerbation or maintenance phases. Crisis management and disease modification protocols are utilized in respective phases. The palliative care core is primarily focused on symptom management, including the assessment and management of four intertwined symptoms (i.e., dyspnea, impaired functioning, depression, and anxiety). The symptom management is guided and supported by patient-centered goals of care and end of life planning. The education core includes patient, caregiver and provider education programming. The center of the framework is the transitional care core that addresses the key elements linking efficient and effective communication strategies, advanced care planning and decision aids.
Author
Olathe Medical Center
2341 W. Fredrickson Drive
Olathe, KS 66061
(913) 791-3520
Co-authors
Lufei Young PhD, RN, APRN-NP
Register Now
Register for the 2018 CAPC National Seminar and Pre-Conference Workshops by September 24 for Early Bird pricing.
Learn More and Register