National Seminar
Palliative Care Consultations for Orthotopic Heart Transplant Recipients
Topic: Specific Patient Populations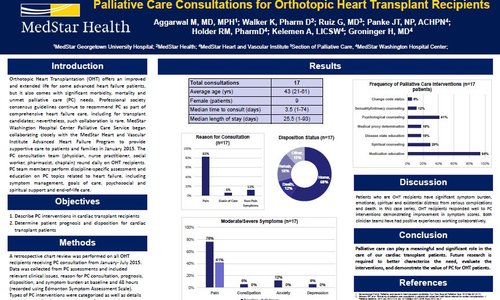 Cardiac transplantation is associated with significant morbidity, mortality, and supportive care needs. Nevertheless, partnerships between heart transplant and palliative care (PC) teams are extremely rare; data remains limited on how such services benefit cardiac transplant patients and families. To describe indications for PC consultation and PC interventions in cardiac transplant recipients, we retrospectively reviewed ten cardiac transplant recipients who received PC consultation between January and July 2015. Reason for consultation, pain and symptom assessment (on day 0, 2), estimated prognosis, PC interventions, and disposition were collected. Sixteen PC consults took place for 10 cardiac transplant recipients. The primary reason for consultation was symptom management (pain 86%, non-pain symptoms 14%). Fifty-seven percent of patients had moderate-severe symptoms at presentation. Symptom scores decreased to none-mild within 48 hours of initial consultation in half of these cases. Additional PC interventions included psychological counseling (19%), spiritual care (13%), disease state education (6%), and medical proxy determination (6%). Most hospitalized patients were discharged; however, two required end-of-life care during hospitalizations. In this series, cardiac transplant recipients experienced notable symptom burden, responded well to interventions to treat symptoms, and required additional PC interventions. Future research should further describe PC consultation's role and benefit in cardiac transplantation.
Author
hunter.groninger@medstar.net
MedStar Washington Hospital Center Department of Medicine Section of Palliative Care
110 Irving St NW
Washington, DC 20010
(703) 343-5859
Co-authors
A. Kelemen, LICSW
G. Ruiz, MD
JT Panke, NP, ACHPN
K. Walker, PharmD
M. Aggarwal, MD, MPH
RM Holder, PharmD
Register Now
Register for the 2018 CAPC National Seminar and Pre-Conference Workshops by September 24 for Early Bird pricing.
Learn More and Register