National Seminar
Palliating Interns: The Impact of a Palliative Care Rotation on Internal Medicine Interns
Topic: Education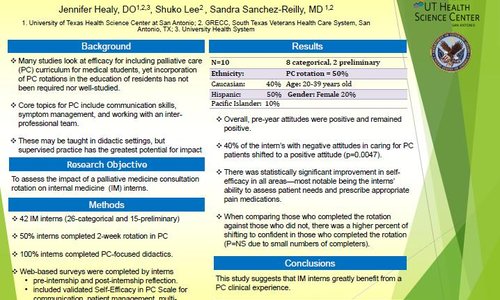 Background: Many studies look at efficacy for including palliative care(PC) for medical students, yet incorporation of PC-rotations for residents has not been required nor well-studied.  Core topics for PC include communication, symptom management, and working with inter-professionals.  These may be taught in didactics, but supervised practice has the greatest potential for impact.  
Methods: 42 Medicine-interns (26-categorical; 15-preliminary).  50% categorical completed PC-rotation(13) and 100% completed PC-focused didactics(42).  Upon completion of internship, web-based surveys sent that included pre-post-reflection. Survey included validated Self-Efficacy in PC Scale (assesses communication efficacy, patient management, multi-professional teamwork) and the Thanatophobia Scale (assesses PC-attitudes).  McNemar's Test was used for statistical analysis.
Results: Completed survey=10 (8-categorical;2-preliminary) Female=20%.  Caucasian=40%, Hispanic=50%, and Pacific Islander=10%. Age=20-39. Completed PC rotation=5. Overall, pre-year attitudes were positive and remained positive. 40% of the 5 intern's with negative attitudes in caring for PC patients shifted to a positive attitude (p=0.0047). There was statistically significant improvement in self-efficacy in all areas—most notable being interns' ability to assess patient needs and prescribe appropriate pain medications. When comparing those who completed PC-rotation against no PC-rotation, there was higher percent of shifting to confident in completers (p=non-significant due to small number).
Conclusion: This study suggests that IM-interns greatly benefit from a PC clinical experience.
Author
University of Texas Health Science Center San Antonio University Health System
5652 Lockhill Rd
San Antonio, TX 78240
(210) 870-8180
Co-authors
Sandra Sanchez-Reilly MD
Shuko Lee MS