National Seminar
PACCT- Building Bridges -One Way to Grow a Program
Topic: Pediatrics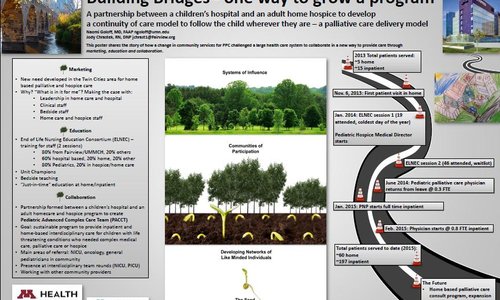 Pediatric palliative care (PPC) provision in the hospital and community has grown rapidly in the last decade.  However in the rapidly evolving health care arena, services can change quickly. This poster shares the story of how a change in community services for PPC challenged a large health care system to collaborate in a new way to provide care.  A partnership was formed between a childrens hospital, an adult home care and an adult hospice program to create a Pediatric Advanced Complex Care Team (PACCT).
The goal was to develop a sustainable program to provide both in patient and home based interdisciplinary care for children with life threatening conditions who needed complex medical care, palliative care or hospice. Marketing, education, collaboration, culture change and support from leadership of all entities were needed to make this happen.
Margaret Wheatley's theory of change (http://www.margaretwheatley.com/articles/emergence.html) was a helpful frame work as the program developed. This poster will show the time line, strategies, educational methods, resources used and lessons learned.
Author
University of Minnesota Masonic Childrens Hospital/ Fairview Home Care and Hospice
Minneapolis, MN
Co-authors