National Seminar
Organizations' Cultural Readiness for Palliative Care
Topic: Health System Strategies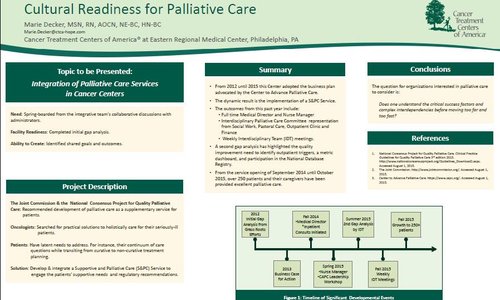 NIH and JACHO are recommending the development Palliative Care as a supplementary service for patients.  Also, oncologists are searching for practical solutions to holistically care for their oncology patients.  Usually, these patients have latent needs to address; for instance, their continuum of care questions while transitioning from curative to non-curative treatment planning.  One Cancer Center's solution was to develop, and integrate a Palliative Service Program to engage the regulatory recommendations, and the patients' latent needs.
For two years, this Center adopted the Center to Advance Palliative Care's business plan for facility readiness, need, and ability to create a palliative care service.  The cultural "readiness" was defined by Center's patient-centric healing culture in conjunction with the palliative care's positive attributes.  The "need" spring boarded from the integrative team's collaborative discussions with Administrators.  The Center's "ability to create" became shared outcomes.  The "results" were a Board Certified Palliative Medical Director, a nurse manager, and 170-referred oncology patients.  Currently, an interdisciplinary committee has finalized a gap analysis for the future needs of a 24/7 program goal.  The question for other organizations interested in Palliative Care is:  "Do you understand critical success factors, and complex interdependencies before moving too far and too fast?"
Author
Supportive & Palliative Care Nurse Manager
Cancer Treatment Center of America
326 Edgewood Avenue
Horsham, PA 19044
(215) 537-7059
Register Now
Register for the 2018 CAPC National Seminar and Pre-Conference Workshops by September 24 for Early Bird pricing.
Learn More and Register