National Seminar
Nurses Have the Magic Touch: Determining the Effect of Embedding a Palliative Care Nurse within the MICU
Topic: Staffing Models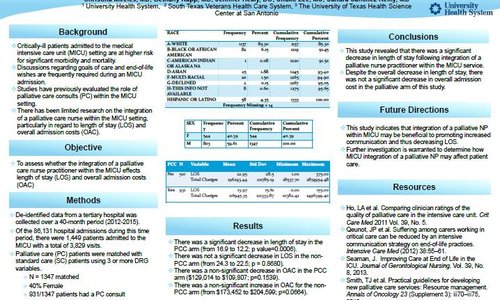 Background: Critically-ill medical intensive care unit (MICU) patients are at high risk for significant morbidity and mortality. As such, goals-of-care and end-of-life decisions are warranted. Prior studies evaluated palliative care (PC)-consultants role within the MICU; however, embedding PC-nurse-practitioners (NP) in the MICU and its effects on length of stay (LOS) and overall admission costs(OAC) has not been assessed.
Methods: 40-month period (2012-2015) de-identified data was analyzed, including all patients admitted to MICU. Of the 86,131 hospital admissions, there were 1449 patients with 3829 MICU visits. We matched PC-patients with standard care(SC)-patients using DRGs. N=1347 matched. 40% Female. 931/1347 patients had PC-consult. Repeat MICU admissions, LOS, and OAC were compared for PCC and No-PPC groups before the embedded PC-NP and after.
Results: There was a significant decrease in LOS in PCC-arm after embedding PC-NP (from 16.9 to 12.2;p=0.0006). There was non-significant decrease in LOS in the non-PCC-arm (from 24.3 to 22.5;p=0.8680) and in OAC: PCC-arm (from $129,014 to $109,807;p=0.1539). Interestingly, there was a non-significant increase in OAC for non-PCC-arm (from $173,452 to $204,599;p=0.0664).
Conclusions: This study revealed significant LOS decrease upon embedding PC-NP within the MICU. However, there was non-significant difference in OAC.
Author
University of Texas Health Science Center San Antonio University Health System
5652 Lockhill Rd
San Antonio, TX 78240
(210) 870-8180
Co-authors
Bethany Kapp, MD
Christina Mireles, MD
Jennifer Healy DO
Sandra Sanchez-Reilly MD
Shuko Lee MS