National Seminar
No Time to Spare: Early Palliative Care in the Safety Net
Topic: Quality Improvement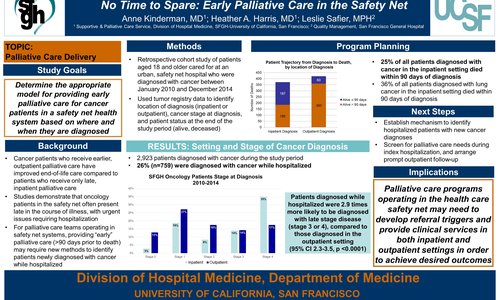 Studies suggest that under-insured patients are more likely to present with later-stage cancers than Medicare-insured patients, and they may be more likely to be hospitalized urgently for cancer care.  However, studies of palliative care (PC) interventions for cancer patients suggest that the greatest impact can be achieved if these services begin "early" (≥90 days prior to death).  To determine the appropriate model for providing early palliative care for cancer patients in our system, we examined where patients receive their initial cancer diagnosis, and at what stage they are diagnosed.  We used data from the hospital's tumor registry to identify cancer stage and location of diagnosis, over a five-year period.  Our results showed that of the 2,928 patients diagnosed with cancer, 26% (n=759) were diagnosed while hospitalized.  Patients who were diagnosed while hospitalized were more likely to be diagnosed with stage 3-4 disease (49%, n=372), vs. stage 0-1 (21%, n=163).  Patients who received their diagnosis in the outpatient setting were more likely to be diagnosed with stage 0-1 (40%, n=865), vs. stage 3-4 (32%, n=688).  These results suggest that "early" palliative care for cancer patients in our hospital must often involve initial consultation while patients are hospitalized, with prompt outpatient follow-up.
Author
Director, Supportive & Palliative Care Service
San Francisco General Hospital
1001 Potrero Ave
San Francisco, CA 94110
(415) 206-3303
Co-authors
Heather A. Harris, MD
Leslie Safier, MPH
Register Now
Register for the 2018 CAPC National Seminar and Pre-Conference Workshops by September 24 for Early Bird pricing.
Learn More and Register