National Seminar
New and Revised Requirements for The Joint Commission Advanced Palliative Care Certification Program
Topic: Health System Strategies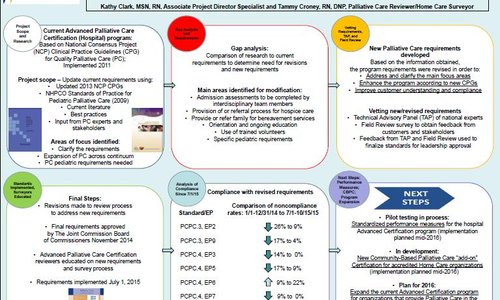 During 2014, The Joint Commission reviewed its Advanced Certification in Palliative Care program, and researched changes in the field of palliative care that may necessitate modifications to the program. Using the 2013 Clinical Practice Guidelines for Quality Palliative Care (3rd edition), the National Hospice and Palliative Care Organization's Standards of Practice for Pediatric Palliative Care and Hospice (2010), and other recent literature, staff used a gap analysis to determine areas in the current program that needed revisions. These proposed revisions were written and then vetted by a panel of national palliative care experts. The main areas identified for modification included:
• Use of trained volunteers in a palliative care program
• Specific topics for staff orientation and ongoing education
• Types of assessments to be completed by interdisciplinary team members on admission to palliative care service, including quality of life, cultural, and spiritual assessment
• Requirement for the program to provide or make a referral for hospice care as needed
• Requirement that the program provide or refer family for bereavement services
• Specific pediatric requirements for programs that provide pediatric palliative care
The proposed new and revised requirements were also reviewed by the field via an on-line survey. After minimal revisions based on the survey results, the modifications to the program were approved by The Joint Commission's Board of Commissioners, and will go into effect July 1, 2015. The Certification review process was also revised to address the new and revised requirements in the program. We believe that these new and restructured requirements will be of value to currently certified palliative care programs, and that the modifications will encourage new organizations to pursue this respected advanced certification for their palliative care program.
The Joint Commission is currently developing palliative care performance measures, and plans to release them in mid-2016. We are currently doing research on community-based palliative care, to begin the work of expanding this certification program outside the hospital setting, and into community health care settings such as home care, hospice, and ambulatory health care organizations.
Author
The Joint Commission
One Renaissance Boulevard
Oakbrook Terrace, IL 60181
(630) 792-5932
Co-authors