National Seminar
Making the Case: Data Collection Made Easy
Topic: Measuring Impact and Value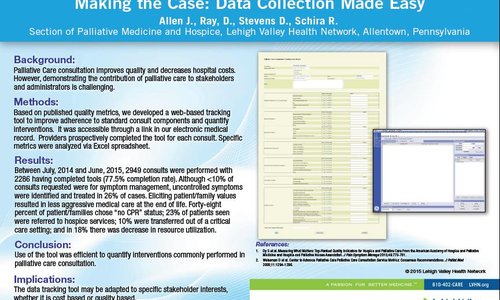 Background: Palliative Care consultation improves quality and decreases hospital costs.  Demonstrating the contribution of palliative care to stakeholders and administrators is challenging. 
Methods: Based on published metrics, we developed a web-based tracking tool to improve adherence to standard consult components and quality interventions.  It was accessible through a link in our electronic medical record.  Providers prospectively completed the tool for each consult.  Metrics were analyzed via Excel spreadsheet. 
Results: Between July, 2014 and June 2015, 2949 consults were performed with 2286 having completed tools (77.5% completion rate).  Although < 10% of consults requested were for symptom management, uncontrolled symptoms were identified and treated in 26% of cases.  Eliciting patient/family values resulted in less aggressive medical care at end of life.  Forty-eight percent of patient/families chose "no CPR" status; 23% of patients seen were referred to hospice services; 10% were transferred out of a critical care setting; and in 18% there was decrease in resource utilization. 
Conclusion: Use of the tool was efficient to quantify interventions commonly performed in palliative care consultation. 
Implications: The data tracking tool may be adapted to specific stakeholder interests, whether it is cost based or quality based.
Author
Palliative Medicine Consulting Physician
Lehigh Valley Health Network
2166 South 12th Street Suite 402
Allentown, PA 18103
(610) 402-8106
Co-authors
D. Ray
D. Stevens
R. Schira