National Seminar
Intensive Care Unit/ Palliative Care Educational Videos
Topic: Education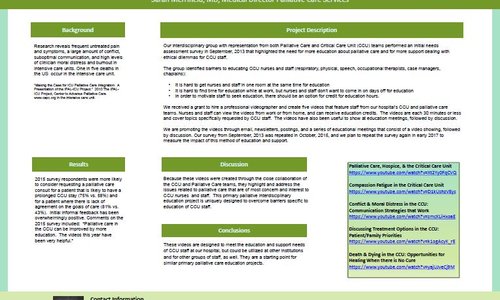 We created five online videos for intensive care unit staff at our hospital.  The videos address palliative care related topics that were identified by an initial needs assessment survey of ICU staff and through ongoing close collaboration between our ICU and palliative care teams.  The video format was selected to overcome barriers specific to educating ICU staff and to optimize participation in primary palliative care education.  Funding was through a grant from our hospital foundation, which allowed us to hire a professional videographer.  Video topics include:  "Palliative Care, Hospice, and the CCU", "Compassion Fatigue in the Critical Care Unit", "Conflict and Moral Distress in the CCU:  Communication Strategies that Work", "Death and Dying in the CCU:  Opportunities for Healing when there is No Cure", and "Tracheostomies, Feeding Tubes, and Code Status:  Discussing Treatment Options in the Context of Family/Patient Priorities."  We wrote quiz questions for each video, and staff can get education credits for watching the videos.  Initial informal feedback has been very positive.  We plan to measure viewership data of the videos and assess their impact on our ICU culture by using before and after surveys.
Author
Providence St. Peter Hospital
413 Lilly Rd. NE
Olympia, WA 98506
(360) 486-6402
Register Now
Register for the 2018 CAPC National Seminar and Pre-Conference Workshops by September 24 for Early Bird pricing.
Learn More and Register