National Seminar
The Integration of Palliative Care in Rural Tennessee
Topic: Health System Strategies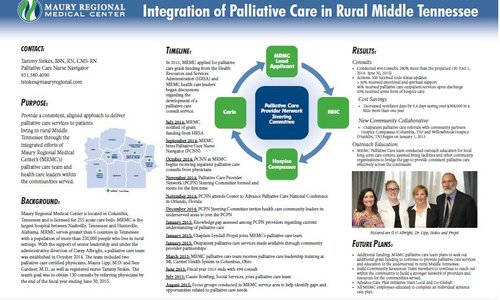 Maury Regional Medical Center is located in Columbia, Tennessee and is licensed for 255 acute care beds.  MRMC is the largest hospital between Nashville, Tennessee and Huntsville, Alabama.  MRMC serves greater than 6 counties in Tennessee with a population of more than 200,000 people living in rural settings.  When senior leadership agreed to start a palliative care program at Maury Regional Medical Center it became clear that the success of the program would only come through building relationships within communities served to properly access palliative care needs and to discover innovative ways to deliver care in rural middle Tennessee.  A palliative care network was developed to lead the charge in integrating palliative care services.  This network was comprised of health care leaders from local Hospice organizations, nursing homes and surrounding hospitals and their focus was to develop integrative ways to deliver palliative care across the health care continuum from the hospital to the patient's home, assisted living or nursing homes.  Members of the network were responsible for assessing the needs within the community they live and work.  The information gathered was vital in developing a system to deliver palliative care services to patients living with chronic illness in rural middle Tennessee. 
Author
Palliative Care Nurse Navigator
Maury Regional Medical Center
3 S Park Grove Road
Columbia, TN 38464
Register Now
Register for the 2018 CAPC National Seminar and Pre-Conference Workshops by September 24 for Early Bird pricing.
Learn More and Register