National Seminar
Integration & Enculturation of a Palliative Care Program
Topic: Measuring Impact and Value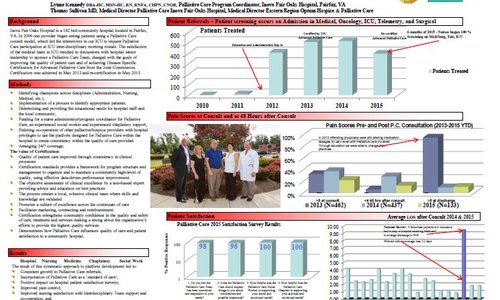 Hospital    Medicine    Chaplaincy    Social Work
Background: Inova Fair Oaks Hospital is a 182 bed community hospital located in Fairfax, VA. In 2009 one provider began seeing patients using a Palliative Care consult model, which led the intensivists in our ICU to request Palliative Care participation at ICU inter-disciplinary morning rounds. The satisfaction of the medical team in ICU resulted in discussions with hospital senior leadership to sponsor a Palliative Care Team, charged with the goals of improving the quality of patient care and of achieving Disease Specific Certification for Advanced Palliative Care from the Joint Commission. Certification was achieved in May 2012 and re-certification in May 2015.
The result of this systematic approach to platform development led to:
Consistent growth in Palliative Care referrals, Incorporation of Palliative Care as a 'standard of care'; Positive impact on hospital patient satisfaction surveys; Improved pain control; Improved nursing satisfaction with Interdisciplinary Team support and co-operation, and Shorter length of stay with reduced 30 day re-admissions.
Author
Director Palliative Care Inova Health System
Inova Fair Oaks Hospital
Service Line Office 3600 Joseph Siewick Drive
Fairfax, VA 22033
(703) 391-3685
Co-authors