National Seminar
Integrating Pharmacists into a Palliative Medicine Team at a Community Hospital
Topic: Staffing Models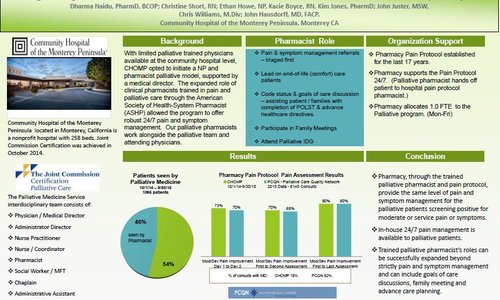 The core team members of a Palliative Medicine Team include Physicians, Nurse Practitioners, Nurses, Social Workers and Chaplains. While Pharmacists have been identified as valuable team members, most inpatient Palliative Teams have not been able to have a full time Pharmacist in a small Community Hospital setting. Our program illustrates a collaborative agreement whereby a palliative trained pharmacist is integrated into the Palliative Medicine Service. The pharmacy department provides 24 hour inpatient coverage and has a pharmacy managed pain protocol that is used to ensure patients have access to pharmacists all the time. A palliative trained pharmacist works with the Palliative Medicine Team Monday through Friday, 8am to 5pm. The pharmacist participates in the interdisciplinary team meeting three times weekly with the Palliative Medicine Team, follows assigned patients and focuses on patients with symptom management, end of life care and any medication education needs. The Palliative Pharmacist signs off to the pm/night/weekend pharmacist for necessary follow up. The pharmacists document in the electronic medical records. A Palliative team member is always on call; however with the pharmacist pain protocol being available 24/7, it complements the team and has proven to be extremely effective and rewarding, enhancing patient care.
Author
Clinical Pharmacist
Community Hospital of the Monterey Peninsula
22997 Espada Dr
Salinas, CA 93908
Co-authors
Christine Short, RN
Chris Williams, M.Div
Dharma Naidu, PharmD, BCOP
Ethan Howe, NP
John Hausdorff, MD, FACP
John Juster, MSW
Kacie Boyce, RN
Kim Jones, PharmD
Register Now
Register for the 2018 CAPC National Seminar and Pre-Conference Workshops by September 24 for Early Bird pricing.
Learn More and Register