National Seminar
Inpatient Palliative Care Reduces Hospital Readmissions
Topic: Measuring Impact and Value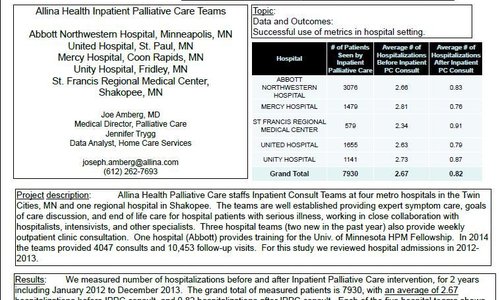 Allina Health Palliative Care staffs Inpatient Consult Teams at four metro hospitals in the Twin Cities, MN and one regional hospital in Shakopee.  The teams are well established providing expert symptom care, goals of care discussion, and end of life care for hospital patients with serious illness, working in close collaboration with hospitalists, intensivists, and other specialists.  Three hospital teams (two new in the past year) also provide weekly outpatient clinic consultation and follow-up.  One hospital provides training for the Univ. of Minnesota HPM Fellowship.  In 2014 the teams provided 4047 consults and 10,453 follow-up visits.  For this study we reviewed hospital admissions in 2012-2013.
Results:  We measured number of hospitalizations before and after Inpatient Palliative Care intervention, for 2 years including January 2012 to December 2013.  The grand total of measured patients in 7930, with an average of 2.67 hospitalizations before IPPC consult, and 0.82 hospitalizations after IPPC consult.  Each of the five hospital teams shows statistically similar results.  To address whether these patients were simply being seen at the end of life, further data on patients living 30, 90, 120, and 240 days after discharge are available, all showing similar reductions (eg. 2.58 vs.1.28 hospitalizations for alive>240 days).
Author
Medical Director Palliative Care
Allina Health Hospice and Palliative Care
1055 Westgate Dr., Suite 100
St. Paul, MN 55114
(612) 262-7693
Co-authors
Jennifer Trygg, Data Analyst, Home Care Services
Register Now
Register for the 2018 CAPC National Seminar and Pre-Conference Workshops by September 24 for Early Bird pricing.
Learn More and Register