National Seminar
Innovation Meets Future Demands: A Novel Approach to Fellowship Training in Hospice and Palliative Medicine
Topic: Education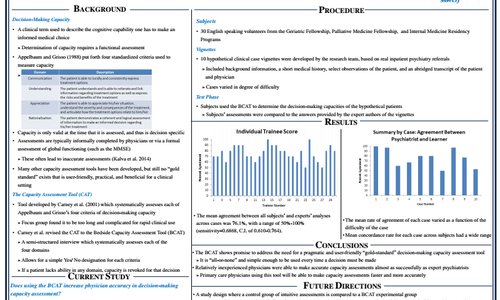 North Shore University Hospital has a growing Hospice and Palliative Medicine (HPM) Fellowship training program, established in 2007 and accredited in 2009. As the number of people with serious medical illness increases, the need for hospice and palliative medicine trained physicians has increased. Additionally, providers can no longer sit for the certification exam using verification of clinical experience.  Review of the Accreditation Council for Graduate Medical Education's frequently asked questions notes that HPM fellowship programs have the flexibility to accept fellows with the expectation of completing the program on a part-time basis over the course of 24-36 months.1 As a result; we are piloting a part-time fellowship in Hospice and Palliative Medicine which commenced July, 2015. The primary boards were contacted and they agreed in writing to allow entrance to the certifying exam upon successful completion of all program requirements over a 24 month period.  We anticipate this will be a viable alternative to full time training, allowing more providers the acquisition of subspecialty competencies and board certification in hospice and palliative medicine.
Author
Program Director, Palliative Medicine Fellowship
North Shore LIJ Medical Group
300 Community Drive
Manhasset, NY 11030
(516) 562-8825
Co-authors
Register Now
Register for the 2018 CAPC National Seminar and Pre-Conference Workshops by September 24 for Early Bird pricing.
Learn More and Register