National Seminar
Initial Impact of Rural Community Palliative Care
Topic: Measuring Impact and Value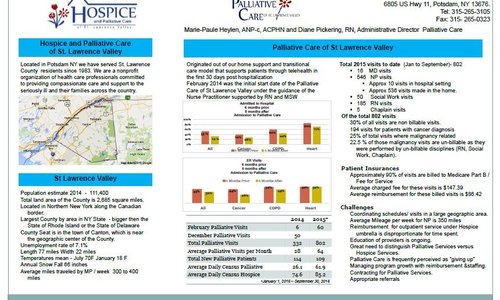 A community palliative care program was initiated by a hospice in January 2014 in Rural St. Lawrence County.  The palliative care team, consisting of a physician, nurse practitioner, social worker, and RN, served a total of patients in 18 months.  The project obtained privileges for the nurse practitioner at four rural hospitals.  The hospitals all agreed to subsidize part of the cost.  Nurse practitioner, physician, and LCSW visits were billed to Medicare and private insurance.  Referrals came primarily from hospitals and physician practices, with referrals also being made by families, home health agencies, and the patients themselves.  Most patients were very ill and were seen at home.  Patients were followed up through hospital medical record systems.  The results demonstrate a positive impact of the program in terms of (1) reduced 30-day hospital readmissions, (2) reduced emergency department visits, (3) reduced hospital admissions, and (4) appropriate and timely referral to hospice services.  Results were tracked by hospitals and by major diagnostic groups, showing variation in the results.  Outcomes indicate a clear impact on reducing hospitalizations for COPD and cancer patients, but no impact on CHF emergency department use.
Author
Palliative Care of St. Lawrence Valley
6805 UD Hwy 11
Potsdam, NY 13676
(315) 265-3105
Co-authors
Register Now
Register for the 2018 CAPC National Seminar and Pre-Conference Workshops by September 24 for Early Bird pricing.
Learn More and Register