National Seminar
Increasing Palliative Medicine Utilization in the Surgical Intensive Care Unit at An Urban, Safety-Net Hospital
Topic: Screening for Palliative Care Patients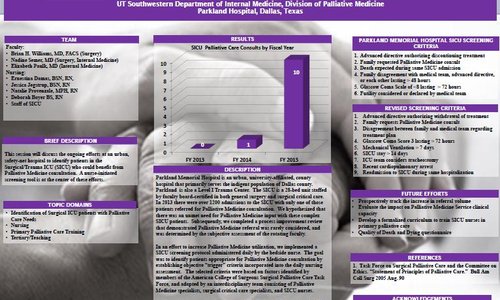 The SICU in our urban, university-affiliated, county hospital is a closed, 28-bed unit with over 1200 admissions each year. We hypothesized that there was an unmet need for Palliative Medicine input with complex SICU patients and completed a process improvement review that confirmed Palliative Medicine referral was rarely considered. In an effort to increase Palliative Medicine utilization, we implemented a SICU screening protocol done daily by the bedside Critical Care Registered Nurse (CCRN). The goal was to identify patients appropriate for Palliative Medicine consultation by establishing objective "trigger" criteria incorporated into the daily nursing assessment. The selected criteria were based on factors identified by members of the American College of Surgeons Surgical Palliative Care Task Force, and adapted by an interdisciplinary team consisting of Palliative Medicine specialists, Surgical Critical Care specialists, and SICU nurses. Our pilot study demonstrated an increase in Palliative Medicine referrals. We also demonstrated many appropriate patients still were not identified for referral. Our future plans are to prospectively track the increase in referral volume, evaluate the impact on Palliative Medicine Service clinical capacity, and develop a formalized curriculum to train SICU nurses in primary palliative care.
Author
UT Southwestern Medical Center/Parkland Hospital
5323 Harry Hines Blvd E5.508
Dallas, TX 75390-9158
(214) 648-3343
Co-authors
Brian H. Williams, MD, FACS
Deborah Boyer BS, RN
Elizabeth Paulk, MD
Ernestina Damas, BSN, RN
Jessica Jegstrup, BSN, RN
Nadine Semer, MD
Natalie Provenzale, MPH, RN
Register Now
Register for the 2018 CAPC National Seminar and Pre-Conference Workshops by September 24 for Early Bird pricing.
Learn More and Register