National Seminar
Improving Outcomes through Palliative Care – ICU Collaboration
Topic: Quality Improvement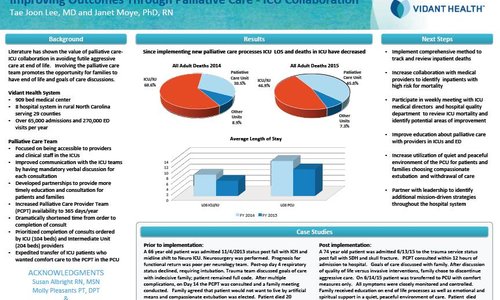 Recognizing  the growing and unmet needs for palliative care in our 900 bed hospital, our leadership supported expansion and enhancement of the Palliative Care Team. To bridge this gap, a Medical Director was hired to manage all of the hospice and palliative care activities, and the Nurse Practitioner staff was doubled.
In aligning activities with the organization's mission and strategic goals, the first priority was to facilitate "right care, right place, right time, right cost".
Reviews of deaths within the organization revealed that a greater than expected number of patients died in the Intensive Care Units. The team focused on being accessible to providers and clinical staff in the intensive care units and developed partnerships to provide more timely education and consultation for patients and families. Palliative Care consult availability was increased to 7 days a week from 5, ready access to the consultant was enhanced, and time from order to completion of consult was dramatically shortened.  
As a result, the number of palliative care consult requests increased significantly and earlier palliative interventions occurred. Other outcomes include decreased length of stay for patients who die in the hospital and increased number of deaths in the Palliative Care Unit compared to ICU deaths.
Author
Vidant Health
2100 Stantonsburg Rd
Greenville, NC 27834
(252) 847-1242
Co-authors