National Seminar
Improving Do-Not-Resuscitate Discussions: A Framework for Physicians
Topic: Quality Improvement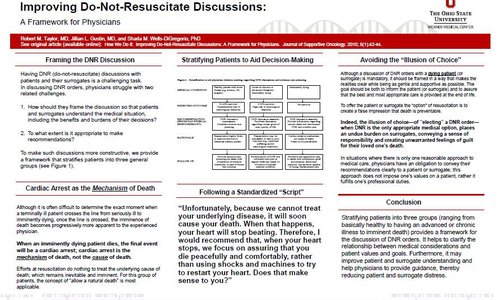 Having DNR (Do-Not-Resuscitate) discussions with patients and their surrogates is a challenging task for most clinicians. To make such discussions more constructive, we provide a framework that stratifies patients into three general groups: (1) the basically healthy, (2) those with an advanced or chronic illness, and (3) the imminently dying. This framework permits physicians to tailor their discussions to the specific needs of each patient or surrogate and to make recommendations when appropriate. In discussing DNR orders, physicians struggle with two related challenges. The first is "How should they frame the discussion so that patients and surrogates understand the medical situation, including the benefits and burdens of their decisions?" The second is "To what extent is it appropriate to make recommendations?" The lack of "best practices" for communicating uncertainty further complicates DNR discussions. Although DNR orders should usually be discussed in the context of a broader conversation about the goals of care and advance care planning, they are sufficiently unique that it is instructive to consider them as a distinct issue.
Author
The Ohio State University Wexner Medical Center
246 Atwell Hall / 453 W. 10th Ave.
Columbus, OH 43210
(614) 293-2957
Co-authors
Jillian L. Gustin, MD
Sharla M. Wells-DiGregorio, PhD
Register Now
Register for the 2018 CAPC National Seminar and Pre-Conference Workshops by September 24 for Early Bird pricing.
Learn More and Register