National Seminar
Implementation of Home-Based Palliative Care with CRNPs
Topic: Staffing Models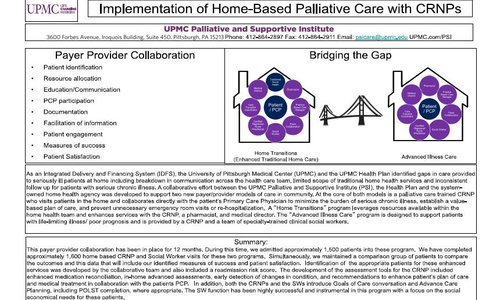 As an Integrated Delivery and Financing System, the University of Pittsburgh Medical Center (UPMC) and the UPMC Health Plan identified gaps in services related to care transitions from facility to home. These gaps included breakdown in communication across the health care team, limited scope of traditional home health services, and inconsistent follow up for patients with serious chronic illness. A collaborative effort between the UPMC Palliative and Supportive Institute (PSI), the health plan and the system-owned home health agency was developed. Specifically, PSI established an independent practice of specialty-trained Certified Registered Nurse Practitioners to support two new payor/provider models of care in community. With autonomy of practice and customized documentation tools, the CRNP visits patients in the home, collaborates directly with the patient's Primary Care Physician to minimize the burden of serious chronic illness, establish a value-based plan of care, and prevent unnecessary emergency room visits or re-hospitalization.  A "Home Transitions" program leverages resources available within the home health team and enhances services with the CRNP, a pharmacist, and medical directors. The "Advanced Illness Care" program is designed to support patients with life-limiting illness/ poor prognosis and is provided by a CRNP and a team of specialty-trained clinical social workers.
Author
Executive Director
University of Pittsburgh Medical Center Palliative and Supportive Institute
113 Kilarney Drive
Hunker, PA 15639
(412) 864-2856
Register Now
Register for the 2018 CAPC National Seminar and Pre-Conference Workshops by September 24 for Early Bird pricing.
Learn More and Register