National Seminar
Impact of Supp Med on Symptom Management in IP setting
Topic: Measuring Impact and Value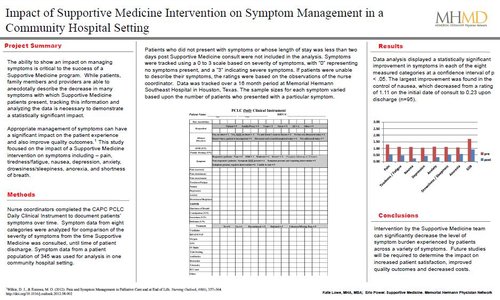 Symptom data from eight categories was analyzed for comparison of the severity of symptoms, from the time Supportive Medicine was consulted, until time of patient discharge. Symptom data from a patient population of 345 was used for analysis. Patients who did not present with symptoms or whose length of stay was less than two days post SM consult were not included. Symptoms were tracked using a 0 to 3 scale based on severity of symptoms, with "0" representing no symptoms present, and a "3" indicating severe symptoms. If patients were unable to describe their symptoms, the ratings were based on the observations of the nurse coordinator. Data was tracked over a 16 month period at Memorial Hermann Southeast Hospital in Houston, Texas. The sample sizes varied based on the number of patients who presented with a particular symptom.  Data anlysis displayed a statistically significant improvement in symptoms in each of the eight measured categories at a confidence interval of p < .05. The largest improvement was seen in nausea, which decreased from a rating 1.11 on the initial date of consult to 0.23 upon discharge (n=95). The mean improvement across all symptoms was 0.70 points between date of consult and discharge.
Author
Administrative Manager
Memorial Hermann Physician Network and Symptom Management Consultants
909 Frostwood Suite 1.408
Houston, TX 77024
(336) 918-9499
Register Now
Register for the 2018 CAPC National Seminar and Pre-Conference Workshops by September 24 for Early Bird pricing.
Learn More and Register