National Seminar
Impact of race on pain management outcomes
Topic: Education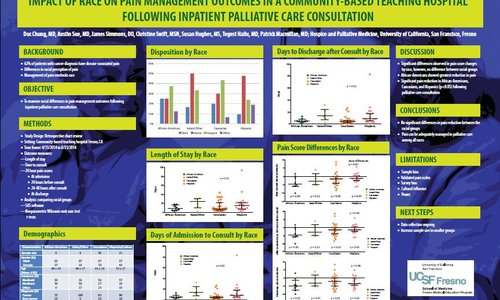 Objective:  Restrospective study to examine racial differences in pain outcomes following inpatient palliative care consultation.
Participants were of African American, Asian/Others, Caucasian, and Latino origins.
Main Outcome:  Pain score at various time periods: first 24-hour period in hospital (including admission); 24 hours before the date/time of consultation; 24 to 48 hours after consult completion; and 24 hours before discharge. Pain scores via VAS scale.
Results:  Most patients were Caucasian or Latino, at least 60 years old, diagnosed with cancer, with differences in length of stay and types of health insurance.
Median admission pain ranged from 5.3 to 6.9, while median pain 24 hours prior to discharge ranged from 1.2 to 3.3. African Americans had the highest initial pain score of 6.9 and showed most reduction in pain after consultation and prior to discharge (-4.5 and -4.9, respectively). Asians had an initial pain score of 6; differences of -2.9 and -3.2 were observed after consultation and prior to discharge. Caucasians and Latinos had the same initial pain score of 5.3, however, greater pain reduction was seen in Latinos at discharge compared to Caucasians; -3.4 versus -2.0 (p-values of 0.46 and 0.38, respectively). There was an overall pain reduction in all groups combined, p < 0.01.
Author
St. Joseph's Hospital and Medical Center
5573 North Brent Ave
Fresno, CA 93723
(408) 824-0635
Co-authors
Austin Sue, MD
Christine Swift, MSN
James Simmons, DO
Patrick Macmillan, MD
Susan Hughes, MS
Tegest Hailu, MD