National Seminar
The Impact of Palliative Care Decisions at Hospital Discharge on RA
Topic: Measuring Impact and Value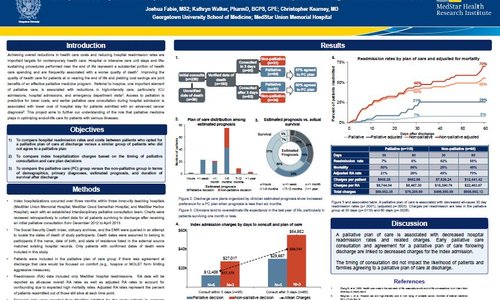 This study describes the impact of early palliative care (PC) hospital consultation and the discharge plan of care on the rate of readmission (RA). Objectives: 1) compare RA rates and charges for patients choosing a PC plan versus non-palliative after discharge; 2) compare differences in hospital charges between early consultations and plans of care.

Methods: We included all patients receiving PC consultation and surviving to discharge in three hospitals (12/12-4/13). Palliative care plan of care (PCPOC) was defined as post-discharge plans that focused primarily on comfort (e.g., hospice) and non-palliative plans of care (NPPOC) represented usual care. Early consultations were performed ≤3 days on index hospitalization.
Results: 180 patients were included in this study and 53% were consulted early. Overall, 64% agreed to a PCPOC at discharge. Hospital charges were less for early consultations (∆$22,566) and for those with a PCPOC. Thirty day mortality was higher in the PCPOC group (80% vs 29%) and overall RA rates were higher in the NPPOC group (42% vs 7%). When adjusted for mortality, RA rates remained higher in the NPPOC group (45% vs 21%). Thirty day RA charges were higher per patient (∆$7,031) and per RA (∆$9,646) for the NPPOC group.
Author
Clinical Director of Palliative Care
MedStar Health
201 East University Parkway 33rd St Bldg, Suite 415
Baltimore, MD 21218
Co-authors
Christopher Kearney, MD
Joshua Fabie MS2