National Seminar
Identifying and Addressing Nursing Barriers in EOL care
Topic: Education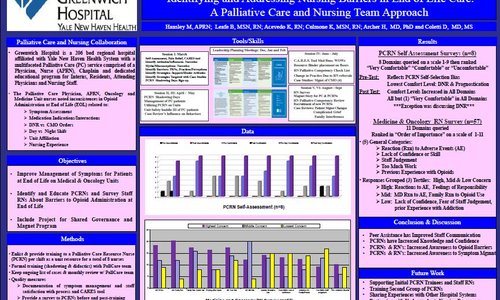 By identifying common barriers to care at our community hospital then training Palliative Care Resource Nurses (PCRNs) at End of Life (EOL) management, an educational program for medical and oncology nurses was developed and implemented by the Palliative Care Team.  The initiative was prompted by the PC team noting disparities in their patient's care directly related to the nurse's knowledge base and personal comfort level in administering as needed (prn) narcotic and anxiolytic medications at EOL. 
The PC team, nursing administration and nursing management identified and trained a group of medical and oncology nurses as PCRNs to act as a primary resource to their peers in patient assessment, active symptom management and cultural differences. In order to determine effectiveness and comfort level with this subject, a needs assessment tool developed by our team that was previously used in a hospital-wide PC survey was administered that involved answering specific PC related topics with a follow-up assessment 6mths after the initial one.  The PC team provided education on patient assessment, symptom management, pharmacology, role modeling and implementation of the C.A.R.E.S. model, first developed at the City of Hope. The program includes quality measures and will be included in the hospital documents in applying for Magnet certification.
Author
Medical Director
Greenwich Hospital
5 Peryridge Road
Greenwich, CT 06830
(203) 531-0395
Co-authors
B. Leafe, MSN, RN
H. Archer, MD, PhD
K. Acevedo, RN
K. Culmone, MSN, RN
M. Hansley, APRN
Register Now
Register for the 2018 CAPC National Seminar and Pre-Conference Workshops by September 24 for Early Bird pricing.
Learn More and Register